Online class in any location in any timezone
Fala Brasil School has developed a practical and dynamic methodology for online classes that focuses on fast, efficient and structured learning that is also fun.
Based on the needs and interests of each student, experienced professors not only transmit linguistic tools but also prepare the student to adapt to brazilian culture in a smooth and natural way.
Classes take place through a sophisticated but user -friendly platform that allows content sharing, class recording and clear communication between instructor and student.
Grammatical structure focusing on practical communication
Customized classes based on each student's interests in the country.
Methodology based on neuro-linguistic tools for effective learning
Practical methodology
Focus on speaking from the outset.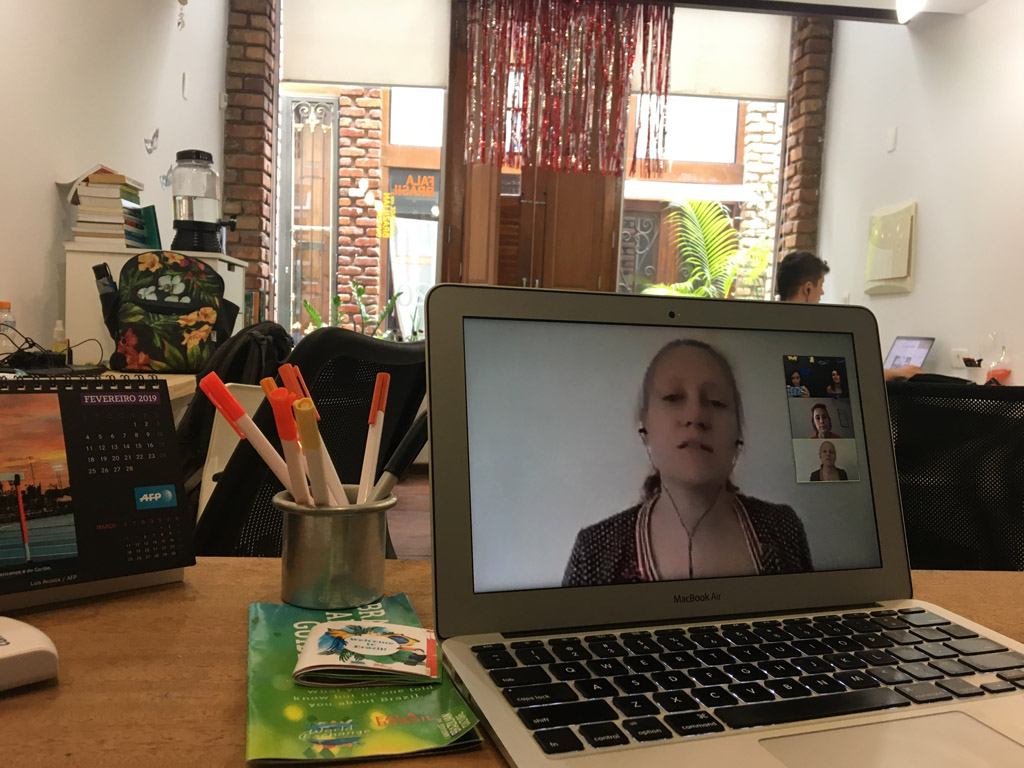 Your online Portuguese class can be personalized without additional costs.
Online Portuguese for traveling in Brazil
After learning where you plan to travel and what are your areas of interest, the instructor will develop lesson plans based on
Simple day-to-day communication
Local culture and history
Local expressions and dialects
Tips that only locals know
Local food culture
Travelling around Brasil: What does each region offer and how to get from one place to another
Best things to do in the area of Brazil chosen by the student
Online Portuguese for business in Brazil
Portuguese training for sales
Portuguese training for giving presentations
Training for business meetings
Individual and group business conversation
Writing emails, reports, documents and contracts
Intercultural business relationships
Understanding the brazilian business environment
Getting to know great local sites and restaurants
Online Portuguese for daily life in Brazil
Simple communication for day-to-day life
Portuguese for shopping
Portuguese for finding an apartment
Portuguese for meeting people
Understanding Brazilians and brazilian culture
Historia and culture of Brazil
Deeply explore the region where the student lives: history, culture, local tips and what to do in the area
All this with total freedom to have class anytime, anywhere!
Whether visiting Brazil for vacation, to study, to work or for those who want to master the language without leaving their home country, online classes are a practical and efficient solution.
Get to know Fala Brasil's class levels
Intensive Course: 15 hours in one week
Introductory module with communication strategies for basic needs. Ideal for recently arrived visitors and expats or for those wanting a fast and efficient preparation before a trip to Brazil. The class is set up so that, in a few hours, the student is able to communicate in day-to-day situations using vocabulary and simple grammatical structures in addition to specific content related to each student's target location in Brazil. For example: how to order in a restaurant, to ask questions, to introduce oneself, to ask for information and to call a taxi. Brazilian culinary traditions, shopping and other topics will also be explored.
With a focus on speaking and being able to communicate independently, the basic levels work on efficient expression and basic comprehension in daily situations. The student will learn about the basic characteristics of modern brazilian culture as well as contextualized history to help with language comprehension and to present a comprehensive view of the country.
PORTUGUESE INTERMEDIATE BASIC LEVEL
MODULES I, II and III  EACH MODULE = 18 HOURS
The intermediate level focuses on connecting ideas and development of verbal communication, exploration of new vocabulary and more complex grammatical structures. As the level of learning of Portuguese increases, cultural knowledge also deepens both in general and  with respect to specific contextualized vocabulary for each student. Here the student will be prepared to communicate in diverse situations, including group conversations, and will learn to create presentations etc.
PORTUGUESE ADVANCED LEVEL
MODULES I, II and III  EACH MODULE = 18 HOURS
The advanced student already is able to communicate comfortably and demonstrates a good understanding of the language. With a focus on dominating the language and increased confidence, the advanced level brings improved language skills, exploration of more complex forms of communication and promotes more accurate reflection on brazilian culture.
---
 BOOK NOW YOUR TRIAL CLASS fala@falabrasilschool.com